Hawker Hart oli englantilainen 1930-luvun alun kaksipaikkainen ja kaksitasoinen kevyt pommikone.
Sen prototyyppi lensi vuonna 1928. Koneita valmistettiin 2 600 kappaletta, joka oli suuri tuotantomäärä suuren laman aikana.
Koneesta valmistettiin koulukone- ja jopa hävittäjä versioita
Ruotsin ilmavoimat hankki 1934 kolme Hawker Hartia ja niitä valmistettiin mm. ASJA-tehtaassa lisenssillä 42 kappaletta.
Tyyppi: kaksitaso
Miehistö: Kaksi, ohjaaj ja tähystäjä.
Moottori: Nohab Mercury My VIIA (Bristol Pegasus-lisenssiversio), 580 hv
Kärkiväli: 11,35 m
Pituus: 8,56 m
Korkeus: 2,8 m
Lentopaino: 2 300 kg
Suurin nopeus: 260 km/h
Lakikorkeus: 6 000 m
Käytö suomessa:
Talvisodan aikana ruotsalaisvapaaehtoisten yksikkö Flygflottilj 19 toimi Suomen Lapin ilmapuolustuksessa ja tuki täten Suomen ilmavoimia. Flygflottilj 19 käytti muun muassa neljää Hartia Kemissä. Kaksi niistä tuhoutui 12. tammikuuta 1940 pommituslennolla Neuvostoliitossa törmättyään toisiinsa. Yksi ammuttiin alas.
Toisin sanoen yksi sotalento tuhosi 3/4 F 19-yksikön Hart-koneista. Yksikkö sai yhden korvaavan Hartin Ruotsin ilmavoimilta helmikuussa 1940.
Four Hawker Harts from the Swedish Air Force saw action as dive bombers during the 1939–1940 Winter War as part of a Swedish volunteer squadron, designated F19, fighting on the Finnish side.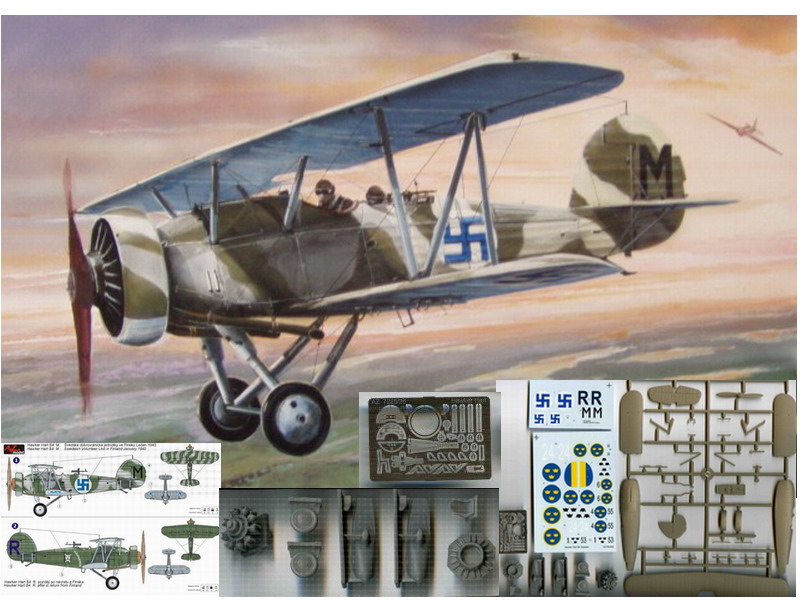 Yksikön käyttämä, Suomen ilmavoimien tunnuksilla varustettu kone on näytteillä Keski-Ruotsin Linköpingissä Flygvapenmuseumissa.
-----------------------------------------------------------------------------------------
Swedish Hart:
Light bomber for Swedish Air Force. Four Hawker-built pattern aircraft, powered by a Bristol Pegasus IM2 radial piston engine were delivered in 1934. Following successful evaluation, 42 were built under licence in Sweden, powered by a Swedish-built NOHAB Pegasus IU2
Estonia Hart:
Export version for Estonia, equipped with an interchangeable wheel or float undercarriage; eight built.
-------------------------------------------------------------------------------------------
The Hawker Hart was a British two-seater biplane light bomber aircraft of the Royal Air Force (RAF). It was designed during the 1920s by Sydney Camm and manufactured by Hawker Aircraft. The Hart was a prominent British aircraft in the inter-war period, but was obsolete and already side-lined for newer monoplane aircraft designs by the start of the Second World War, playing only minor roles in the conflict before being retired.
Several major variants of the Hart were developed, including a navalised version for the Royal Navy's aircraft carriers. Beyond Britain, the Hart would be operated by a number of foreign nations, including Sweden, Yugoslavia, Estonia, South Africa, and Canada.