Lioré-et-Olivier LeO 45 was a French medium bomber that was used during and after the Second World War. It had been originally designed and developed for the newly formed Armée de l'air as a modern medium bomber capable of performing independent strategic operations, unlike the majority of previous French bombers.
The LeO 45 was a low-wing monoplane, all-metal in construction, equipped with a retractable undercarriage and powered by two 1,060 hp Gnome-Rhône 14N engines. The prototype, which made its maiden flight on 15 January 1937, had been outfitted two 1,100 hp Hispano-Suiza engines. The LeO 45 had been developed with the aim of providing a modern and advanced bomber for the new Armée de l'air, which had gained its independence on 1 April 1933. Introduced to operational service in 1938, it was a very effective and capable bomber.
As only a handful of aircraft had been introduced into the French Air Force by the outbreak of the Second World War, the LeO 45 had effectively appeared too late in order for the type to provide any substantial contribution during the Battle of France in the face of an invasion by Nazi Germany. As a result of the Armistice of 22 June 1940, the LeO 45 was being operated in quantity by both sides of the conflict; while the type continued to be manufactured and operated by occupied Vichy France, the Free France forces also operated the aircraft. The LeO 45 participated in combat missions throughout the remainder of the war, and continued to be used for some time after its end by the post-war French Air Force. The last examples in active service were finally retired in September 1957
----------
General characteristics
Crew: 4
Length: 17.17 m
Wingspan: 22.52 m
Height: 5.24 m
Wing area: 66 m²
Empty weight: 7,530 kg
Max. takeoff weight: 11,398 kg
Fuel capacity: 3,235 l
Powerplant: 2 × Gnome-Rhône 14N −48/49 (or −38/39 or −46/47) 14-cylinder air-cooled radial engine, 790 kW (1,060 hp) each
Maximum speed: 495 km/h at 4,000 m
Cruise speed: 420 km/h
Range: 2900 km
Service ceiling: 9,000 m
Guns: 1x 20 mm Hispano-Suiza HS.404 cannon in dorsal turret, 120 rounds
1x 7.5 mm (0.295 in) MAC 1934 fixed forward-firing machine gun, 300 rounds
1x 7.5 mm MAC 1934 in "dustbin" retractable ventral turret, 500 rounds
Bombs: Up to 1568 kg of bombs in fuselage and wing root bomb bays
7x 200 kg bombs
--------
At the outbreak of the Second World War, there were only ten LeO 45s that had been formally accepted by the French Air Force. These aircraft were issued to a front line unit to experiment with the new type in the field and flew a few reconnaissance flights over Germany, which resulted in the type's first combat loss.
At the start of the Battle of France on 10 May 1940, only 54 of the 222 LeO 451s that had been delivered were considered ready for combat, the remainder being used for training, spares, undergoing modifications and repairs or having been lost.
The first combat sortie of the campaign was flown by ten aircraft from Groupes de bombardement (bomber squadrons, abbreviated GB) I/12 and II/12 on 11 May. Flying at low altitude, the bombers suffered from heavy ground fire with one aircraft shot down and eight heavily damaged.
Within the next eight days many of them were shot down, such as the one piloted by sergent-chef Hervé Bougault near Floyon, during a bombing mission over German troops. By the Armistice of 25 June 1940, LeO 451 of the Groupement de bombardement 6 (bomber wing) had flown approximately 400 combat missions, dropping 320 tons of bombs at the expense of 31 aircraft shot down by enemy fire, 40 written off due to damage and five lost in accidents. Other statistics state that about 47 bombers were lost: 26 to fighters, 21 to Flak.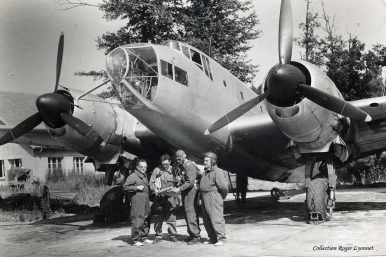 Although the LeOs were typically faster than many fighters and also faster than almost all other types of bomber, unfortunately for them the Luftwaffe was equipped with fighters that were even faster (such as the Bf-109 and Bf-110). The cruise speed, up to 420 km/h (7 km/min), was one of the strengths of the LeOs performance and made them difficult to intercept. The diving and climbing speeds were very good as well (the Italian SM.79 took 17 minutes to reach 5,000 m, compared to 14 for the LeO), even if not that useful for a bomber.
LeOs were optimized for medium-altitude operations (5,000 m) but were forced to go far lower to search for and destroy tactical targets, rarely with even a basic fighter escort (P-75, D.520). LeOs were not unarmed and German fighters had to keep a look out for their dorsal turret: on 6 June 1940, gunner sergeant Grandchamp, GB II/11 shot down two Bf-110Cs with the Hispano cannon. German fighters came to avoid this danger by attacking from below, forcing the LeOs to deploy their retractable turret, which slowed them.
Another problem had been caused by the Germans' initial strike. Groupement 6 had 50 LeOs but these aircraft had not been dispersed and even lacked capable AA defence on their airfields. When the Luftwaffe attacked, a total of 40 bombers were lost. In spite of this, Groupement 6 continued the fight, since the LeOs were produced at a fast pace (around 4–5/day, over 200 built within 45 days) allowing them to re-equip. Losses remained high and, on missions, 13 LeOs were intercepted and four shot down by Luftwaffe fighters. Groupement 6 totalled around 70 losses both in air and ground but still continued to fight until the end.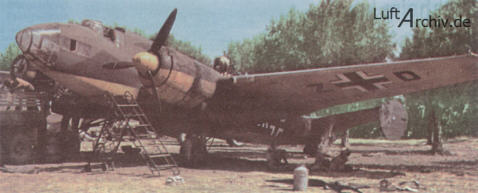 Upon Italy's entry into the war on the Axis side, LeOs attacked Livorno, Novi Ligure, Vado and Palermo in a four-aircraft morning mission. Against Italian forces, the LeOs were able to operate without much difficulty. Turin (Fiat plants) was near the border and easy to reach, while Italy did not possess a radar system and radios were not commonly used on the Italian fighters. On the other front, however, ground-based flak fire and Luftwaffe fighters alike took a heavy toll upon the type.
A total of 452 aircraft had then been built, 373 accepted into service (including 13 for the Aéronautique navale), and around 130 lost in action in Europe.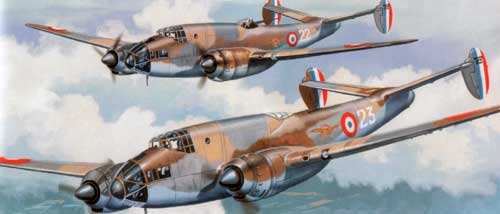 Following the Armistice, LeO 451s continued to fly, under the Vichy government. Modifications in Vichy service included fitting the aircraft with larger rudders and two more 7.5 mm machine guns in the rear turret. The extra weapons were added because of the limited capacity of the cannon magazines and the fact that changing them in flight was extremely difficult. Aircraft production had stopped with the German occupation but a 1941 agreement authorized Vichy authorities to have a limited number of military aircraft built and orders were placed for 225 newly-built Leo 451s.
In order to speed production, considerable use was made of components that had been built in 1940 and stored in the German occupied zone. The first of the newly produced aircraft flew on 30 April 1942, and by the time the German occupation of Southern France following Operation Torch brought production to an end, 102 LeOs had been built for Vichy. In 1942, LeO 451-359 was fitted with an experimental degaussing coil for remotely detonating naval mines (some British Vickers Wellingtons and German Junkers Ju 52s also carried a similar device).
On 24 October 1940, Vichy French LeO 451s carried out an air raid against Gibraltar in retaliation for the