Kyösti Karhila
Nickname(s)

Kössi
Kyösti Karhila (May 2, 1921 – September 16, 2009) was a Finnish World War II fighter ace with 32¼ victories. He was born in Rauma, Finland. He began flying in Lentolaivue 32 and flew later in LeLv 30, LeLv 32, LeLv 34 and LeLv 24. He scored 13¼ of his victories with P-36 Hawks and 19 with Bf 109s.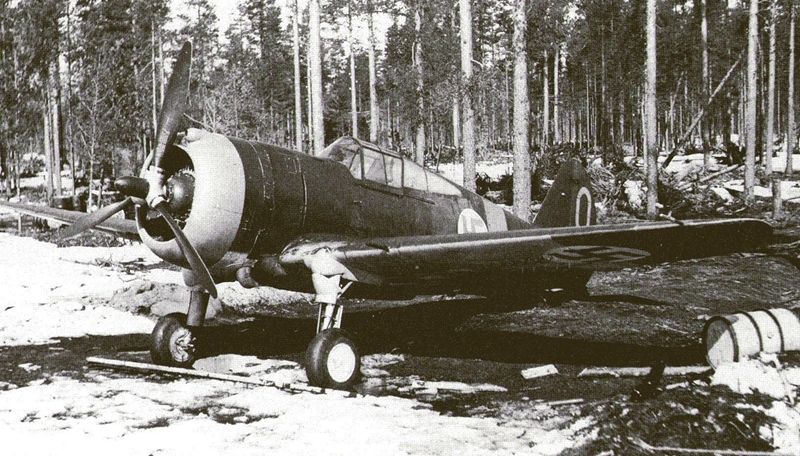 Biography
After the war broke out on the 30 November 1939, Karhila was drafted and posted to Kauhava Air Base for training. On coompletion of training he was then posted to LeLv 24 at Siikakangas, equipped with the Fokker D.XXI. He was then posted to LeLv 30 on 20 June 1941. In mid July the unit was re-equipped with the Curtiss P-36 Hawk. Karhila's first air combat was on 31 July 1941, against two Soviet Air Force I-153's.
Karhila transferred to LeLv 34 based at Utti in March 1943, flying the Bf 109G-2. In March 1944 his flight was posted piecemeal into LeLv 30 at Malmi to defend Helsinki, although after the Soviet ground offensive commenced in June 1944 the flight returned to LeLv 34.
After his air force career he flew airliners for Finnair, Aero O/Y and Spearair. He gathered 556 flying hours during the war (in 304 combat sorties) and 24,000 after the war. He died in Helsinki at the age of 88 as the last of the Finnish fighter aces. F18 Hornet of the Finnish Air Force performed a flypast over the city during the ceremony.
Karhila in the middle
The picture is taken in the midst of fierce battles, June 1944 in the middle to Soviet great attack.
Taking time, it's a pretty relaxed mood
According to the latest archive studies, air gains have been strengthened for Karhila for a total of 43 1/4 (This info's Carl-Fredrik Geust's studies on Russian artifacts).
Aerial victories
Date

Own aircraf Place

Enemy aircraft
August 1, 1941

CU-502

Jääski

⅓ balloon
August 10, 1941

CU-567

Kirvu

½ Polikarpov I-16
August 13, 1941

CU-561

Kirvu

½ Polikarpov I-153
August 18, 1941

CU-570

Sintola

1 Polikarpov I-153
September 3, 1941 CU-566

Kuokkala

1 Polikarpov I-153
September 17, 1941 CU-552

Siestarjoki

1 MiG-3
September 19, 1941 CU-560

Ohalatva

1 MiG-1
June 15, 1942

CU-560

Mergino

1 Yak-1
June 28, 1942

CU-560

Vitele

½ Pe-2
July 5, 1942

CU-560

Sampotuksa

1 Polikarpov I-16
August 21, 1942

CU-560

Lyugovitcha

1 Polikarpov I-16bis
September 29, 1942 CU-571

Saarimäki

½ Pe-2
November 9, 1942

CU-571

Mulberskoye

½ MiG-1
November 9, 1942

CU-571

Ylä-Sotkusha

¼ Pe-2
February 9, 1943

CU-560

Saarentaka

1 Pe-2
February 11, 1943

CU-560

Savijärvi

½ LaGG-3
February 11, 1943

CU-560

Novinka

1 LaGG-3
February 11, 1943

CU-560

Malkjärvi

1 U-2
May 4, 1943

MT-214

Ino

2 LaGG-3
May 21, 1943

MT-224

Lavansaari

1 La-5
July 19, 1943

MT-224

Pöytsaari

1 Pe-2
August 20, 1943

MT-229

Seiskari

1 La-5
May 28, 1944

MT-403

Kuusalu, Estonia

1 Pe-2
June 21, 1944

MT-405

Tienhaara

1 IL-2
June 30, 1944

MT-436

Perojoki

1 Yak-9
July 1, 1944

MT-461

Teikarsaari

1 IL-2
July 3, 1944

MT-461

Portinhoikka

1 IL-2
July 4, 1944

MT-460

Vatnouri

1 P-51
July 5, 1944

MT-461

Tuppuransaari

1 Yak-9
July 7, 1944

MT-461

Vatnouri

1 P-51
July 9, 1944

MT-461

Kylä-Paakkola

1 IL-2
July 10, 1944

MT-461

Terhonjärvi

1 La-5
July 10, 1944

MT-461

Uusikylä

1 Yak-9
July 11, 1944

MT-461

Hirvisaari

1 La-5
July 16, 1944

MT-460

Ritasaari

1 Yak-9
July 18, 1944

MT-460

Malkola

1 La-5
July 18, 1944

MT-460

Kylä-Paakkola

1 La-5
CU = P-36 Hawk (Curtiss 75, bought from Germany
)
MT = Bf 109 (Messerchmitt 109 G-2 serie 200 nrs / and G-6 serie 400 nrs)